Safety for Hand-held Laser Welding
The Dolphin Laser Safety Curtain Pod by Lasermet is a curtain-based enclosure for hand-held laser welders. The Dolphin Pod is a low-cost solution to protect workers from the escape of hazardous laser radiation.
Ideal for hand-held laser welding
Low-cost modular safety solution
Self-assembly
Self-built Solution
The Dolphin Laser Safety Curtain Pod is built from Lasermet's Dolphin Laser Blocking Curtain material – certified to EN 12254 Screens for Laser Working Places.
The Dolphin Pod is a 2.4m (8ft) cube that supports laser blocking curtains to enable users of handheld laser welding devices to work without endangering surrounding workers from stray laser radiation. It is supplied as a low-cost, self-assembly pod in flat-pack form to enable easy transport and assembly by the customer. This means that it can also be disassembled and rebuilt in a different location quickly and easily if required.
The standard enclosure comes with a manually-operated curtain door and an open roof for ventilation.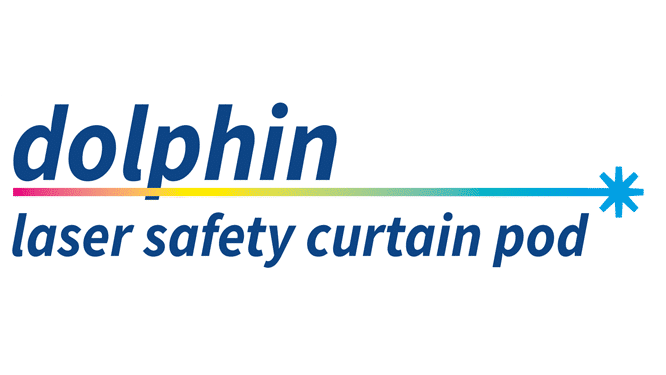 INTERLOCK® OPTIONS
The Dolphin Pod comes with an Interlock® upgrade option complete with safety interlock switches, dual-message LED warning sign, and emergency stops – all linked to an Interlock® Controller.
PROTECTION LEVELS
| | |
| --- | --- |
| Wavelength Range (nm) | Protection Level |
| 180 – 315 | D AB8 + IR AB3 + M AB5Y |
| 315 – 1050 | D AB6 + IR AB7 + M AB7Y |
| 1050 – 1400 | D AB5 + IR AB7 + M AB7Y |
| 1400 – 25000 | DI AB3 + R AB3Y |
DIMENSIONS
Dolphin Pod enclosures come in a 2.4 x 2.4 x 2.4 cube.
Ordering Options
Additional kits can be ordered for added functionality.
| | |
| --- | --- |
| Product | Inclusions |
| Dolphin Laser Safety Curtain Pod | Standard Curtain Enclosure with no interlocks |
| Dolphin Laser Safety Curtain Pod with Interlock® System | Standard Curtain Enclosure with ICS-SOLO Interlock® Controller, interlock switch, LED warning sign, emergency stop buttons |
| Dolphin Laser Safety Curtain Pod with ALF Helmet and Interlock® System | Standard Curtain Enclosure with ICS-7-ALF or ICS-SOLO Interlock® Controller, Single or Dual ALF Helmet, interlock switch, LED warning sign, emergency stop buttons |